About Banner Health Network
---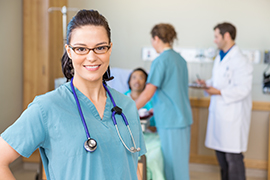 Banner Health Network (BHN) is an accountable care organization that joins Arizona's largest health care provider, Banner Health, and an extensive network of primary care and specialty physicians to provide the most comprehensive health care solutions for Maricopa County and parts of Pinal County. Through BHN, known nationally as an innovative leader in new health care models, insurance plans and physicians are coming together to work collaboratively to keep members in optimal health, while reducing costs.
BHN collaborates with many commercial and government payers, plus large employer groups, to deliver on the triple aim of lower costs, high quality care and an excellent patient experience. Health care can be affordable with a design that engages the physician, patient and payer in seeking the best care and health outcomes.
Delivering improved access to care and connecting with patients in new ways are a primary focus for Banner Health and BHN. Banner Health is looking to technology to connect patient and caregiver through telemedicine-based care delivery and a web portal that gives our members access to their own medical data, facilitates communication with Banner medical practices and allows users to manage their health care in the space and time that is most convenient for them.
Banner Medical Group (BMG)
Banner Medical Group (BMG), Banner Health's employed physician group, is a team of more than 1100 physicians and advanced practitioners located in Alaska, Arizona, Colorado, Nebraska, Nevada and Wyoming. BMG providers serve patients in a variety of care settings. BMG primary care providers like pediatricians, internists, family medicine physicians and obstetrician/gynecologists staff Banner Health Clinics and Banner Health Centers, and BMG specialists care for patients in both clinic and hospital settings. For more information, visit www.BannerHealth.com/bmg.
Neighborhood Physician Alliance
Created out of a merger between Arizona Integrated Physicians (AIP) and Banner Physician Hospital Organization (BPHO), the goal of the Alliance is to create a differentiated single, unified market-wide independent physician organization. This organization supports practice transformation to nearly 1,500 providers through consistent, reliable, coordinated patient experience with improved accessibility, improved quality scores with lower cost of care.
Neighborhoods are a new concept to deliver care to Banner Health Network members. The Alliance has established eight distinct neighborhoods of care. Each neighborhood includes a full spectrum of services including primary care, specialty care and ancillary services, like laboratory and home health, designed to serve the Banner Health Network members who reside in the neighborhood. Most neighborhoods also include a Banner Health Center and at least one Banner Medical Center.
The strength of Banner Health Network (BHN) stands behind Alliance providers with unique population health tools and resources available exclusively to the providers who comprise Arizona's largest Accountable Care Organization (ACO). For more information, visit www.NeighborhoodPhysicianAlliance.com.
Related
---