How BHN is Different
---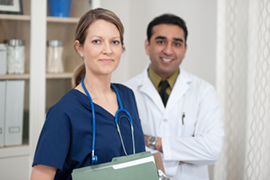 Rising health care costs impact us all
According to a study by the Kaiser Family Foundation, the U.S. spent $8,402 per person on health care in 2010. By the year 2020, the Centers for Medicare and Medicaid Services (CMS) projects that health spending will be nearly one-fifth of gross domestic product (GDP). As an employer, we know you want to provide high quality health care options for your employees. In light of spiraling premium costs, it is also imperative that you make cost effective choices for your organization.
High quality, comprehensive care can be affordable
Value-based arrangements
Most often providers are paid on a traditional fee-for-service basis. Banner Health Network is different. We are an industry leader in value-based care arrangements, and are nationally recognized for our results in the Medicare Pioneer Accountable Care Organization. Our providers are rewarded for high quality results, and providing the latest in evidence-based preventive care—value is the driving factor, not volume. Because we are accountable to results, your members can be assured a high quality experience, and you know that we stand behind overall results you will see. We find this model to be more effective. You will find it to be more affordable.
Choice in providers
In many cases, controlling your costs means limiting access to providers that your members want to see. Banner Health Network is different. Our network is expansive, including more than 4,000 providers in primary and specialty care, as well as 15 hospitals within Maricopa and Pinal counties. This includes sought after specialty care like Cardon Children's Medical Center, Banner Alzheimer's Institute and the Banner MD Anderson Cancer Center, plus academic medicine at Banner-University Medical Center Phoenix.
More informed care
In traditional care models patients learn to expect repetitive paperwork, testing and administrative hassles. Banner Health Network is different. We have found controlling costs and a better patient experience begins with connecting our providers through enhanced electronic tools that share data among the providers most responsible for a patient's care. We maintain visibility of patient data across the care continuum including data from our payer partners, primary and specialty care, tests and treatments and even procedures and hospital care. Population health tools alert us when a care reminder or support from a clinical team member is needed.
Experience in population health
For many organizations, population health is a new concept. Banner Health Network is different. Banner Health is Arizona's largest private employer. We are self-insured and have been managing the health of our workforce and their dependents for more than twenty five years. Our experience in population health began with our own employees and their dependents. We have the ability to aggregate data and find opportunities to improve health where areas of risk or cost exposure exist—such as diabetes, smoking cessation, influenza, heart disease, renal disease and obstetrics. The great news here is that you have the opportunity to benefit directly from our experience and learning.
Related
---