Banner Health Network returns its "best-ever" result for Medicare and its beneficiaries as part of the Pioneer ACO
---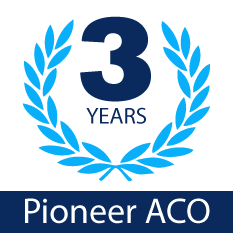 PHOENIX (August 19, 2015)
Banner Health Network has delivered its best-ever result in a third successful year as part of the Pioneer Accountable Care Organization. The Center for Medicare and Medicaid Innovation reports that in Performance Year 3 (2014), BHN returned more than $29 million in savings over the predicted financial benchmark, while at the same time improving its quality score by nearly 10 percent over the previous year.
The savings returned represents a 5 percent savings in the overall cost of care for the 61,200 traditional Medicare beneficiaries attributed to BHN in 2014. A portion of this savings will be made available to BHN to provide for ongoing infrastructure improvements and related administrative costs.
The 33 ACO measures that make-up the quality score are divided into four categories: Patient/Caregiver Experience, Care Coordination/Patient Safety, Preventive Health and At-Risk Population. BHN scored well across these categories and significant gains were made in measurements surrounding chronic health issues like heart disease and diabetes.
"Banner Health, BHN, and our physician partners have made significant investments in accountable care because we believe it is vital to the sustainability of health care in this country," said Lisa Stevens Anderson, BHN's chief executive officer. "We have taken bold steps to transform our organization in support of value-based care, and we are beginning to see the results of those actions."
Stevens Anderson attributed the success to BHN's growing experience and expertise as an accountable care organization. "We have openly shared our model with many along the way, and are learning a great deal from our peers in this shared journey, too."
"Plus we are fortunate to have engaged, high-performing providers; enabling information technology and an infrastructure that surrounds beneficiaries in need with the clinical and personal support that can impact their health outcomes," she said.
Other contributing programs included the introduction of a telehealth program called Banner iCare, the development of an affiliated post-acute care network and a continued focus on case management and care coordination.
"Transitions in care are also an important opportunity for better care and reduced costs," said Nishant Anand, MD, chief medical officer at BHN. "If a patient truly does not need hospitalization, but needs to be directly admitted to a skilled nursing facility from an Emergency department, we are making that transition happen smoothly, and with informed clinical hand-offs."
"In addition to maximizing each touch point within the delivery system, we want to take a proactive approach to the overall health and well-being of patients, not just taking care of them when they are sick or injured," he added.
As well as participating in the Medicare Pioneer ACO, BHN has developed successful accountable care models in collaboration with commercial payers, such as: Aetna, Cigna, Blue Cross Blue Shield of Arizona, and UnitedHealthcare, among others. Similar to the Pioneer ACO model, improved care at lower costs have been important outcomes with these commercial payers. Currently nearly half a million people are insured through plans served by Banner Health's provider networks.
In December 2011, BHN announced that it had been selected as one of only 32 organizations in the country to demonstrate the Pioneer ACO Model. Only 23 organizations continued with the model after the first year, and 19 after the second year. The central premise of the Pioneer ACO program is to create value through a highly coordinated, collaborative network of providers who are focused on achieving the highest level of wellness and prevention possible for their Medicare patients. Triggers alert the BHN team to beneficiaries with chronic and acute illness or hospitalizations, so that patients can receive the highest level of support.
Pioneer provider networks benefit financially when they return savings to Medicare in a value-based model, not through an increased volume of services that are reimbursed in a traditional fee-for-service model. Revenues are generated through a percentage of Medicare savings. Savings are realized through tight coordination of care and adherence to evidence-based care. If expenses are greater than the expected benchmark, that Pioneer ACO is at risk for a percentage of losses.
About Banner Health Network
Banner Health Network is an accountable care organization that joins Arizona's largest health care provider, Banner Health, and an extensive network of primary care and specialty physicians to provide Arizona's most comprehensive health care solutions.
Through BHN payers and providers are coming together to work collaboratively to keep members in optimal health, while reducing costs. Health care can be affordable with a design that engages the physician, patient and payer in seeking the best care and health outcomes.
BHN is comprised of about 4,000 Banner Health-affiliated providers, 14 Banner Health hospitals in Maricopa and Pinal counties, and a wide variety of other clinical services.
Related
---