Annual Wellness Visit
---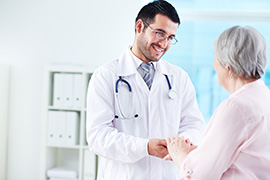 Annual Wellness Visits are Important
Getting regular annual check-ups is the best way to stay on top of your health.
Knowing where your health stands and getting recommended exams will not only give you peace of mind, but will also help detect problems early, when they're easiest to treat.
It may be time for an annual wellness exam
Getting a yearly wellness exam is important so you can be the healthiest and happiest version of yourself. It's also a great time to bring a list of questions and share any health-related concerns with your doctor.
What can I expect during a wellness visit?
A review of your medical and family history
Height, weight, blood pressure and other routine measurements
Recommendation of preventive screenings, care plans or treatment options
Updating a list of current providers and medications
Detection of any cognitive impairment
Annual wellness exams are covered by Medicare. Call your health plan or Medicare directly to verify your coverage.
Already have a regular doctor? That's great – call today to set up your appointment. Need to find a primary care doctor in your neighborhood? Click here for our directory.
Virtual Visits available from the comfort and safety of home
At Banner Health, your well-being is our priority. Most of our doctors are offering wellness visits over the phone or via video chat. The technology is as easy as downloading an app on your phone or making a phone call. You can expect the same things to take place during a virtual visit. The only difference is that you'll be at home and your doctor will be in the office and you'll be connected through technology. If you already have a doctor, call today to set up a virtual visit. Need to find a primary care doctor? To find a provider who offers virtual visits, click here.
Related
---