Annual Wellness Visit
---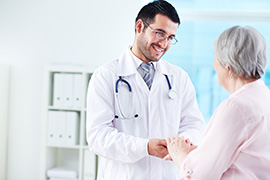 Plan to Be Your Healthiest
Schedule an Annual Wellness Visit
Many of us wait until we are sick to see the doctor. Sure, he or she will be glad to help then, but your doctor wants to monitor your health when you are healthy, too. Remember to schedule a wellness visit once per year to protect your health.
Annual wellness visits are the perfect opportunity to review your current health status and make sure you are up-to-date on vaccinations and preventive screenings. It is also a good time to ask your physician questions about your medications and your physical and emotional health.
When was the last time you saw your doctor for a wellness visit? Has it been more than a year? If so, consider calling the office today for an appointment today!
Be Prepared for Your Wellness Appointment with These Tips:
Be Consistent
It's important to schedule a wellness visit every year, even if you are feeling well. Why not schedule your appointment at the beginning of the year?
Be Open
It's okay to invite a spouse, family member or friend to go to the appointment with you, especially if it will put you at ease or help you remember the visit later.
Your physician's office is a place where you should feel comfortable. Know that your health, safety and privacy are top priorities for your physician. Don't be shy about talking about your health concerns.
Be Prepared
Make a list of the over-the-counter and prescription medications you currently take and bring it with you so your physician can update your medical records.
You may also want to bring the dates of your most recent mammogram and colonoscopy if you have it, and a list of any recent surgeries.
Arrive at your appointment early, in case you need to provide any new information to the office staff.
If you have specific questions to ask your doctor, write them down and bring them with you.
Related
---