Special Services in Medicare Shared Savings ACO Program
---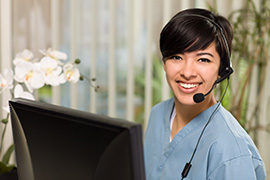 Banner Health Network Nurse On-Call
The experienced nursing staff at the Banner Health Network Nurse On-Call can help with your immediate health care questions 24 hours a day, 7 days a week. These on-call nurses can give you advice for care you can try at home, or help you determine if you should seek urgent or emergency care. Your triage nurse can also assist you in finding nearby facilities offering the right level of care. Your nurse will check-in on you to be sure you are recovering as expected and your primary care doctor will be kept up-to-date on your condition and care recommendations. This service is available to you at no charge because your physician participates in Banner Health Network and the Medicare Shared Savings Program ACO program. Call 602- 747-7990 or outside of Maricopa County call 888-747-7990.
What is a Care Manager?
Banner Health Network (BHN) offers Nurse Care Managers to assist those with potentially serious and chronic medical problems. Care Managers are specially trained nurses who work closely with your physician as part of his or her medical team. It is the role of the Care Manager to help you achieve your greatest state of personal wellness by being your medical advocate. Most often, Care Managers are assigned to people who are newly diagnosed with a potentially serious medical condition, those who are trying to manage multiple chronic health conditions or those who have recently been hospitalized. Please contact us to determine your eligibility for this program: (602) 747-7977 or (800) 827-2464.
Annual Wellness Visit
As a Medicare recipient, you are entitled to an annual wellness visit at no cost to you every 365 days. Choose a specific date each year to help you remember to schedule your appointment -- like a birthday or anniversary. Annual wellness visits are a great opportunity to review medical history, stay current with vaccinations and screenings, and ask questions or share concerns with your primary care physician. Be prepared! Arrive with a list of your current medications, recent surgeries or screenings and a list of questions you have about your health.
Related
---